Location of Newstar Office In China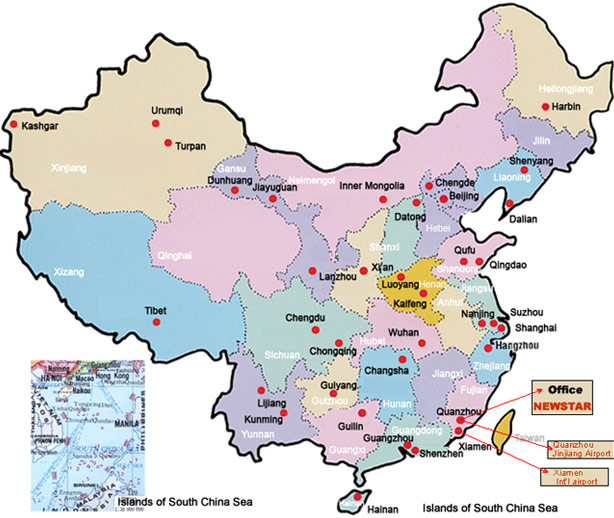 Concerning
(1) Flight
When you visit us, you can fly to Xiamen Int'l Airport and Quanzhou Jinjiang Airport
(2) Hotel
You can stay here Quanzhou Yeohwa Hotel is,their website is : http://www.qzmandarin.com/ (five Star)
(3) Dining
Our Local main food have Seafood such as Crab,Shrimp etc, also have different kinds of foods from other countries!
The cuisine of the seaport city of Quanzhou has been influenced by many different cultures, some even overseas. Cooks use the local seaside provender and exotic methods to create a variety of special dishes. Among these dishes, the most famous are local appetizers. Their popularity has spread to other countries in south and east Asia. The following is a sampler of Quanzhou's more famous recipes.
Kezai Jian (Fried Oyster)


This is a traditional snack cooked with big, fleshy oysters and fresh leeks. The oysters are mixed with the leeks and sweet potato powder together with clear water and pan fried for about two minutes. Then they are sprinkled with some lard, soy and vinegar and turned over several times in the pan. Finally, the oysters are topped with a fried egg. You can add more flavors to this dish by adding shallots and pepper.
Tusun Dong (Frozen Siphon Worm)
Tusun is a kind of eatable insect about four inches long living on the sandy shores. Locals often remove the insects' haslets and boil only their outer bodies in clear water. The pectin inside the insects' bodies is then mixed with water and frozen. After freezing, the mixture takes the form of a pure white jelly. When eating the frozen jelly, you can boost its flavor by adding vinegar, sweet catsup, garlic, tomatoes or any condiment you wish.
Mianxian Hu (Noodles in Soup)
This dish is a soup that is prepared with oysters, shrimps and mussels on a slow fire. Thin noodles are then added. The dish is complete when the noodles become mushy and blend with the soup. Sometimes, mushrooms and fish fillets are added to make the dish even more tasty.
Rouzong (Pyramid-Shaped Dumplings Made of Pork)


These dumplings are made with many ingredients including not only pork and glutinous rice, but also mushrooms, chestnuts, lotus seeds, ham and chicken. The preparation is also quite complicated. First the pork is boiled with various seasonings. Then the rice is stir-fried with the both of the stewed pork. After the rice is cooked, it is mixed with the pork, chestnuts, mushrooms and other condiments in bamboo leaves. Finally, the dumplings are simmered in a big pot for about half a day. Rouzong tastes rich and sweet, but not greasy. You can add some gingili sauce or garlic if you like.
Shenhu Yuwan (Fish Pellet)
This dish is quite representative of Quanzhou cuisine. Fish pellets are made by mixing eel meat and sweet potatoes powder with egg whites. They can be formed round, rectangular or even in the shape of a fish. The pellets are boiled in water, then covered with hot chicken soup and sprinkled with peppers, garlic and coriander leaves. The pellets are snow-white and tender and have a crisp, delicate taste.
Quanzhou has more snacks worthy of tasting, such as the crisp Chunbing cake, the multi-flavored Nenbing cake, the sweet peanut kernel soup and the soft noodles with meat and gravy. Quanzhou also has a Delicious Food Street where you can enjoy all of the local snacks as well as famous dishes from other cities including Canton, Xiamen, Fuzhou, Taipei, and Singapore. Delicious Food Street is near Tumen and Jinhuai streets in the Licheng district. Many city buses go there including No. 17, 18, 19, 20, 23, 26, and 27. Of course, you can also take a taxi there.
(4) Quanzhou's Climate


The land of Quanzhou has a tropical marine climate and is influenced by the monsoon. As a result, the climate is warm and wet almost all year round with annual average temperatures of about 18 C-20 C (64 F-68 F). Therefore a visit can be made to Quanzhou any time of the year, although between April and November is probably the best period.
Tips:
* From May to June, Quanzhou often experiences frequent rainfall; so remember to take an umbrella along with you!
* Summer (July to September) in Quanzhou often lasts for a long time but temperatures are not as high as some other parts of China. The average summer temperature is about 26 C to 29 C (79 F-84 F). So bring plenty of summer clothes if you do choose this period of time to come.
* Quanzhou is very susceptible to typhoons, mostly in May, June, October and November. We recommend you use detailed weather reports available on the internet to try to avoid them.
* Although winter (December to February) is not too cold (snowfall is unlikely), cold waves do often come in February, October or November. Again, pack appropriate thick clothes if you come in winter.




(5) Quanzhou Travel Guide

Quanzhou, also called Licheng and Citong Cheng in Pinyin, is one of the most famous historical and cultural cities in China. It is an important seaport located in southeast Fujian Province and is the economic and political center of the province. To its east is Taiwan separated from Quanzhou by the East Sea, making Quanzhou the famous mother town of Chinese compatriots in Taiwan and overseas. The climate is warm and humid, comfortable for year-round travel, making Quanzhou a popular tourist destination.
Due to its special location, Quanzhou has been China's marine door to exotic cultures since ancient times. During the Song (960-1279) and Yuan (1271-1368) dynasties, Quanzhou port became one of the largest world ports. As the starting point of the Sea Silk Road, it accepted diverse religions including Christianity, Islam and Manichaeism. Today it is called 'World Religions Museum'. Here exotic cultures have been mixed with traditional ones for thousands of years, leaving many historic sites, such as Qingjing Mosque, the Islamic Saint Mausoleums, Kaiyuan Temple, Tianhou Palace and other architectural classics such as Luoyang Bridge, Anping Bridge and Chongwu Ancient Town. Zheng Chenggong (1624-1662), the national hero who helped the government regain Taiwan from Holland in the 17th century, was also born here. His mausoleum in Nan'an city has become a precious historical site in Quanzhou.
In addition to places of historical interest, Quanzhou also abounds in natural beauties including various mountains, river valleys and basins. The famous mountains include Mt. Qingyuan, Mt. Zimao, Mt. Xiangong, Mt. Lingxiu and Mt. Penglai, where the Qingshui Yan temple is situated. Recreational parks near the mountains and along the sea add modern atmosphere to the city's glamour.
Quanzhou has a large variety of local dining including snacks such as fried oysters, frozen siphon worms, noodles in meat soup and fish pellets. If you are interested in Chinese tea, do not miss Wulong Tea in Anxi County. Clever in art, Quanzhou people have created many folk operas including Nanyin, Gaojia Xi, Liyuan Xi and Marionette Show.
In Quanzhou, there are hotels of different standards as well as small hostels. If you are a backpacker, the hostels near the new long distance bus station along Wenling Road are very good choices. Quanzhou also has many commercial streets for shopping, such as the Back City Street (Houcheng Street), Zhuangyuan Street, Zhongshan Road and Daxi Street.
Nightlife in Quanzhou is colorful. Local people often enjoy the delicious food in the night market; fly kites in the squares or boat in park lakes. Young people usually go to the cafés, bars and clubs, chattering, singing and dancing; while seniors often go to cinemas or theaters to see local operas. Office workers choose beauty parlors or gymnasiums for relaxation.
Quanzhou has convenient transportation facilities. Jinjiang Airport supports flights not only to many cities of inland China but also to Hong Kong and Manila. Quanzhou railways reach most cities in Fujian as well as cities in several neighboring provinces. Highways are also well developed in the city, offering convenient access to Xiamen and Fuzhou. In addition, Quanzhou, a seaport city, offers access by water to and from many cities of China, including Dalian, Shanghai, and Hong Kong.
(6) Quanzhou - The Original Harbor
Quanzhou - The Original Harbor


Quanzhou, once considered as one of the two largest ports in the world by Marco Polo, Quanzhou is approximately 103 km from Xiamen. Quanzhou is today one of the 24 cities protected by the State Council as a historical monument. Quanzhou also has the largest collection of Nestorian Christian and Manichaean relics.
Quanzhou is also famous for its Muslim community links. From Tang to the Yan dynasties, Arab merchants traded and settled in Quanzhou, which they called 'Zaytun' - the Great Emporium.
Quanzhou City Ratings
History
Quanzhou was the first port of China in the Song and Yuan dynasties. Quanzhou's harbor silted up in the Ming dynasty, and it is now of minor importance, but nonetheless it remains the commercial center for the surrounding farmlands.
Museum of Maritime Navigational History * * *
The museum, a tower shaped like junk sails, has opened with exhibits related to the era when Quanzhou was the oasis on the 'Maritime Silk Road'.
Despite its name, this museum contains numerous relics from many religions, including Nestorian Christian, Manichean, Hindu, and Islamic. The most impressive display is a Franciscan tombstone with a cross.
The museum also has the remains of a Song dynasty (13th-century) ship, 24-meter long, founded in Quanzhou bay.

Local Culture/Unique Tour * * *
Hui'an County
The women form Hui'an County is famous for their distinctive fashion. They are usually dressed in vivid reds, greens and blues, with an intriguing headdress of floral scarf and bright yellow conical hat.
Nature/Scenic
Qingyuan Mountain * *
Qingyuan Mountain is one of the national parks. For over a 1,000 years, it's been a famous resort. The most significant is the 600-year-old and 5-meter-high Old God Rock, said to be the biggest Taoist stone sculpture ever discovered.
Wuyi Mountain * * * * *
Wuyi Mountain is approximately 300 km from Quanzhou. It is also a national park of 60 square km. Cut off from the outside world by streams and deep valleys, Wuyi Mountains are famous for the Nine Turns Stream, Water Curtain Cave, Wuyi Palace, etc.
Nine Turns Stream circles around the mountains with literately nine turns and eighteen bends. Taking a bamboo raft downstream, you will encounter the famous 36 rock formations and peaks resembling different animals.
The highest peak in Wuyi Mountains is the Dawang Peak. Ascending the summit of Dawang Peak, you can get a full view of the lower peaks that are buried in the white clouds.
Wuyi Palace was built in the Tang Dynasty (618-907) for the rulers to hold sacrificial service to honor the Lord of Wuyi. It's also a preaching ground for Confucians.
A large number of cultural and historical relics have been unearthed recently here in Wuyi Mountains.
Religion
Kaiyuan Temple * * *
Built in Tang Dynasty (686), the temple covers more than 30,000 square meters and is one of the largest Buddhist buildings in Fujian Province. Its main hall is supported by 100 stone columns, hence nicknamed Hundred Pillar Hall, each carved in beautiful, different design. On the crossbeams are carved 24 flying singers and dancers resembling angels in Catholic churches.
A hall in the rear keeps five major Buddhist scriptures in 37,000 volumes. In front of the front hall are two towers over 750 years old, the oldest old stone towers in China.
Caoan Temple * * *
It is the only Manicaean temple left in China and probably the best preserved among such temples in the world. It was first built in the Song and renovated in the Yuan. It has a 1.5-meter-high carving of Mani Buddha inside dating back to 1339.
Grand Mosque * * *
One of the oldest mosques in China, the Grand Mosque was built in the Northern Song Dynasty about 1,000 years ago. It covers a floor space of 2,100 square meters. The granite mosque is a copy of the mosque in Damascus of Syria. Its main entrance, 20 meters high and 4.5 meters wide, consists of three gates, one inside the other. All three gates are in arched form with a dome ceiling but the outer and the middle gates have a pointed summit in the center of their roof. In the middle against the west hall is the altar. The niches in the exterior of the south wall and in the wall of the altar are inscribed with passages from Koran in Arabic.
More information of Quanzhou City, view here:
http://www.travelchinaguide.com/cityguides/fujian/quanzhou/