Why choose Engineered stone?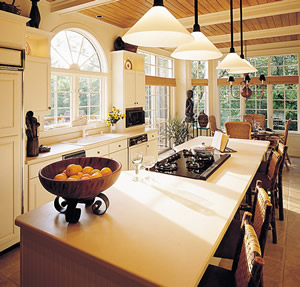 Move over, granite, and make room for engineered stone products. Granite, the surface of choice in kitchens and bathrooms in recent years, is a hard, natural stone known to resist heat, stains and scratches. Designers, architects and homeowners love it for its natural appearance and the subtle depth of color it adds to the room.
But engineered or man-made stone products are increasingly popular and comparable to granite in just about every way. In fact, say some advocates, it is superior in some important considerations.
Engineered stone products are primarily—more than 90 percent—made of natural quartz, the hardest non-precious stone, bound together by resins. On the other hand, granite is only about 40 percent to 60 percent quartz; the rest is made up of softer minerals and impurities.
Why man-made stone?
Engineered stone products require less maintenance than granite because they are non-porous. For example, they don't have to be sealed periodically. Their impervious surface provides more stain and bacterial resistance than granite.
"The durability of these products is great," says Leah Palmer Johnson, senior project manager and designer with Ramsey Engler Ltd., an interior design firm in Minneapolis. In the unlikely event that the surface gets a minor stain or scratch, someone from the fabrication shop can buff it out. "Deeper scratches or difficult stains may require taking the material out and back to the shop for buffing and polishing with a high-pressure water buffing process," she adds.
Man-made quartz surfaces are more heat-resistant than natural stone, too, says Mike Nagel, CGR, CAPS, president of Remodel One, Inc., a remodeling firm in Roselle, Ill. "If you put a hot pot on granite, you can crack it." He points out, though, that none of the manufacturers recommends putting hot items directly on the surface of any engineered-stone products. However, most manufacturers of engineered stone offer a 10-year limited warranty—another plus over granite, which may have a base warranty.
In addition to kitchen countertops, engineered stone products can be used for shower and tub surrounds, vanities and other surfaces throughout the home. And unlike porous granite, which can foster bacteria, they are ideal for commercial settings, especially daycare centers, hospitals and foodservice providers.

A variety of manufacturers offer products in a diverse range of colors and finishes, including:
CaesarStone. A 93 percent quartz product made to evoke the look of limestone, its color palette ranges from bright to subdued.
Cambria. Made from pure natural quartz and epoxy resin, it offers a finished, mock-granite look.
Silestone. Consisting of 93 percent quartz and 7 percent polymers, this product is as tough as they come and has one of the most scratch-resistant surfaces. It provides a brilliant polished finish.
Zodiaq. Made by Dupont, this surfacing material captures the radiance of quartz crystal with depth and clarity.
Contractor considerations
Mike notes that engineered stone products are just slightly heavier than granite, but they are also less brittle so they are less likely to break and crack during transportation and installation. "Engineered stone can withstand a lot more manhandling," he says. "Because many of these products are stronger than granite, installation is a whole lot easier. Granite tends to chip because of its sharp edges." He notes that the cleaner edges of man-made products allow for easier sealing of seams.
Like granite, engineered stone comes in 52-inch by 120-inch slabs. Cutting and shaping of the material is done by fabricators, the mainstay of the granite and engineered stone market. Typically a fabricator will just carry one line of man-made stone. Mike advises contractors to find a good fabricator that can provide for their needs. "Remodeling firms especially need quicker turnaround for their orders compared with many homebuilders," he explains.
Leah tells contractors to compare prices between engineered stone and granite. "Make sure the client gets what they want," Leah says, noting that prices can vary between all types of engineered stone and granite.
Prices for engineered stone products can run slightly higher than granite, where competition has driven prices down. Mike notes that pricing can vary by color and edging style, which is also true with granite. Prices also vary by market. For example, in the Midwest, Mike reports engineered stone runs around $60 per square foot. "Choose your engineered stone by color over brand," he advises.
The downside to these products? "It's homogenous looking. There's no swirls or big color variations like there can be with granite," Mike says.
But if one of the attractions of granite is that it will last forever, engineered stone might be an even better choice. Should something happen to the granite countertop—a crack or large chip—it is unlikely that the fabricator will be able to match the natural material exactly. With engineered stone, it's relatively easy to replace the damaged section with a piece that is indistinguishable from the original.
So if homeowners who really want their countertops to last forever should take a hard look at engineered stone. After all, who wants mismatched counters forever?
Marcia Jedd is a Minneapolis-based freelance writer who frequently writes about design and construction.